HOME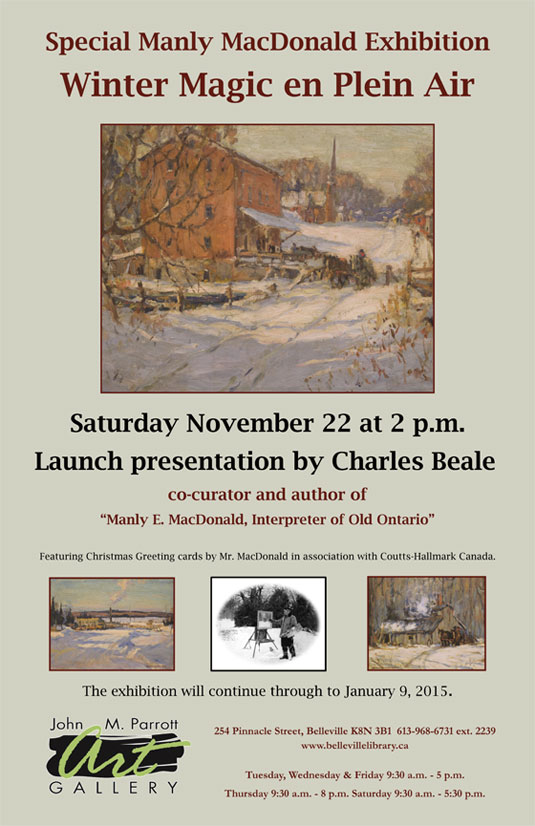 Welcome/Bienvenue
April 2021: Please note the new address details: 7 Shortreed Lane, Port Hope, ON L1A 0A4
January, 2021.
2021: You may be thinking as I have found myself that the website hasn't been updated since my 2019 move to Kingston. Needless to say the onset of the Covid-19 Pandemic in March of 2020 which only accelerated into 2021 has had an impact on us all. Happily, the interest in Canadian art and Manly MacDonald has not. While there have been no exhibition for some time, this website has continued to provide information on his work, and there has been considerable interest in appraisals of the same. In some cases, owners of his paintings have requested valuations in order to donate a piece to a gallery, in particular to the John M Parrott Art Gallery in Belleville, Ontario. This is heartening as it is the perfect repository for his legacy. Other clients have sought appraisals for personal insurance purposes. In either case, Manly MacDonald is not being forgotten as his importance in the Group of Seven era flourishes. I still get the occasional order for a book published in 2010 - now a decade ago! The project in that sense is complete as there are only a few copies left. It was decided at the beginning that we would not print a second run, and we are keeping to that promise. Some day the 1,500 landscape books published will be considered collector's items, but the most important result of this project will be that Manly Edward MacDonald's place in Canadian art has been secured. (The Life & Times of Manly MacDonald on youtube)   
2019:
Ever the nomad, I sold the house in historic Bath Village early this year and moved to Kingston, Ontario in the sleeting rain of February. Downsizing was in order as I moved into a condo - an historic one, of course. During this time, I reorganized the archival material passed down to me from Clark Cunningham and Hollis Arnold, and to which I have added. All of the material was handed over to the newly established Community Archives of Belleville & Hastings County earlier this spring. Interested parties can now view the background to the book in this new space at the Belleville Public Library. There are still a few books left. The journey of publishing the first and only book on Manly MacDonald is now complete. The interaction with the MacDonald family and their friends, collectors and the general public has been a life-changing experience for me that will resonate for the rest of my life. 
2016:
It seemed another move was in store for me with my history as a nomad. In June, I moved from the lovely town of Cobourg with its beautiful beach to Bath, Ontario, on Lake Ontario. In many ways, this move is like coming home. I was born in Kingston, grew up in Napanee, and spent many years in the area. My maternal family were UEL Loyalists, settling in nearby at Adolphustown. In the early 1970s, I lived in Picton and travelled across the Glenora ferry to Queen's University for my first degree. I would later move to Ottawa and finish the BA at Carleton; the BEd at the University of Ottawa, and working on my M. Ed there.  
Bath is a significant village on the Loyalist Parkway, and as I sit writing on Canada's 149th Birthday, I am reminded that Sir John A. MacDonald went to school as a boy in Adolphustown, such was its significance. Bath had one of Ontario's earliest academies. The home I bought is called Reeves Hall, so named after two brothers, who surprisingly were both ministers and cobblers. The circa 1850 home was also the office of Dr. Burleigh for about 38 years. The doctor had the first telephone in the village, and such became the demand for the new device that he built a phone booth inside the front door.
This was a new website in 2008 and while it has been an exciting transition for a writer, it needs to be updated from time to time. It generated and continues to assist with feedback for Manly Edward MacDonald - Interpreter of Old Ontario. It is perhaps the aftermath of its publication that has been as rewarding as the book itself. Since 2008 and continuing today, the book has sold over 1,300 copies. This I'm told is rare for a first publication and a book of its value. I added a PayPal account in 2015 and this has made buying the book sometimes easier for people who are not near one of the independent bookstores that carry it. Connections continue with updates from people who have bought a Manly at auction and/or would like an appraisal for one. This feedback and support is humbling. Presentation continue with the latest being November to January 2015 at the John M. Parrott Art Gallery - the same gallery where we launch the book. Coming soon is a film vignette sponsored by the Belleville Public Library and the Parrott Gallery produced by Peter Lockyer of History Lives Here to be launch in the near future.
This website has a continuing further aim. Since my retirement, or rather in the next phase of my working life, I have been writing and providing writing services. Beginning years ago, the writing bug metamorphosed into a freelance career for me in newspapers and magazines. The book developed partly out of that work and also from a boyhood experience having met Manly E. MacDonald, the painter. While living in Napanee, I wrote for both the Napanee Guide and then the esteemed Napanee Beaver. Since moving to Cobourg in 2014, I wrote a column, firstly for Northumberland News and Northumberland Today. Of late I have been working on a continuing project - a novel about growing up in that same town where I first met Manly MacDonald. Stay tuned!
Check out the site:
About will provide you with my educational and related experience and credentials
Services explains what my background and what I can offer you
The Manly MacDonald page provides the background about this painter, his art, the book, and how to contact me.
Looking forward to hearing from you for any number of reasons...
Charles